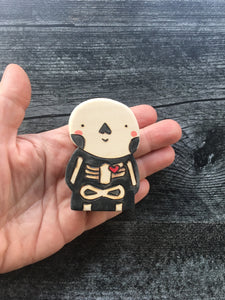 ☀️ This Tansy is ready to ship☀️
💛💛💛💛💛💛💛💛💛💛💛💛💛💛💛 
Tansies are made by hand, each one unique. About 3/4" thick, they stand up on their own. They are lightly painted and sealed with AP certified non-toxic, vegan, earth (and human) friendly paints so the beauty of their woodgrain shows through.  The details on their bodies are added with a wood burner so that they will never wear away with play. They are made with ❤️ and approx. 3" tall  
💛💛💛💛💛💛💛💛💛💛💛💛💛💛💛
* Please visit Tansy on IG or FB for the most current updates, giveaways, and more!!
@tansydolls
http://www.facebook.com/pages/TansyDollsPage
If you have any questions, please contact Lesley at tansydolls@gmail.com. I am happy to help you!
💛💛💛💛💛💛💛💛💛💛💛💛💛💛💛
Everything at Tansy Dolls is handmade with care and is unique in its own beauty. None of our Tansy Dolls toys are intended to babies or young children who may put them in their mouths. 
* US shipping is FREE, $11 CAN, approx. $15 everywhere else. We always combine shipping when ordering multiple products and refund differences if over $3. We'll never make you overpay for shipping! :) We support USPS and ship these first class with tracking.
Thanks so much!
💛Lesley
Copyright © 2020 Tansy Dolls